Direct Digital Access FAQ
What is Direct Digital Access?
Direct Digital Access (DDA) is the system that provides immediate access to class content before the first day of class – at a reduced cost. It is a program used in conjunction with Black Hawk College and textbook publishers to assure the student receives the highest quality content without breaking the student's budget. It is online content that can be courseware (with or without an access code), an e-book, or bundle. Students are automatically enrolled when the class begins.
How Much Does Direct Digital Access Cost?
The cost of Direct Digital Access differs by class. The cost is considerably less expensive than the traditional textbook route – up to 50% to 70% lower than buying a new hardcopy of a textbook. The cost will be listed on the "Select Textbook" section of the website.
When will I be charged?
Direct Digital Access is free for the first several days of class. Please see the "Important Dates" section for when this free period ends. After the free access has ended, your student account will be charged. The charge will be listed as "Bookstore-Req'd Digital." All payments are made to the Bursar office.
How do I find out if my course uses DDA? (see screenshot below)
On the "Select Textbook" section of the website, enter your class information and click "View Your Materials" If a class has a DDA it will be listed like this (prices vary by class):

On Canvas, click the "RedShelf Course Materials (DDA)" (as seen below). If this link is not visible, your instructor has disabled the link and the course most likely does not use DDA.
How long do I have access to the DDA?
This varies by class and what materials are adopted. Most of the time, you will only have access for one semester, but in some cases, you may have access longer than 16 weeks.
Can I opt out?
Yes, you can opt out any time before the opt out deadline (see "Important Dates"). If you have already paid for the DDA and still have access from a previous class, make sure you opt out by the deadline. While you are automatically opted in, opting out is not an automatic process and must be done manually.
How do I opt out?
Click on the RedShelf Course Materials (DDA) link and then the Opt Out link and follow the instructions.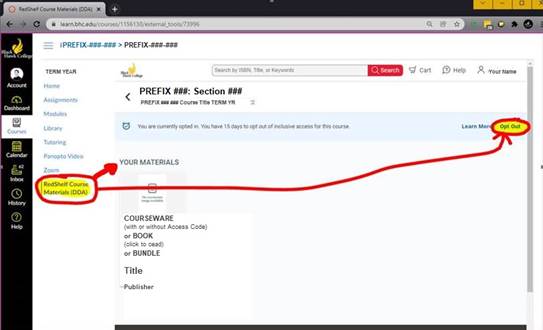 What does opting out mean?
To opt out means that you don't wish to receive your materials through the reduced cost Direct Digital Access program. Your access is removed. Please be aware these materials are required by your instructor, so you will need to find your materials elsewhere.

The option to opt out is only available until the

opt out deadline

.

SORRY, BUT NO REFUNDS WILL BE GRANTED FOR THOSE WHO DO NOT OPT OUT BY THE DEADLINE.

If you opt out by the deadline, you will not be charged your Direct Digital Access fee.
If I accidentally opted out, can I opt back in?
Yes, it is possible to opt back in to a class from which you have opted out. But if you want to opt back in AFTER the deadline has passed, you will need to contact us at this email address: Bookstoregroup@bhc.edu. We will need your name, student ID number, and the course and section of the class. We will then contact an off-campus administrator to opt you back in.
I dropped/failed a course that I am taking again and it uses the same DDA I already paid for. Should I opt out?
Double check on how long your access to the DDA lasts. If you have access for more than a semester, you shouldn't pay for the materials again, so make sure to opt out.
Can I get a printed copy of the Direct Digital Access e-book?
Yes, but not always. A low-cost printed copy of your e-book is available from the bookstore, but is only to supplement the DDA materials (not replace them). If available, this book will be listed on the bookstore website as a Print Upgrade.
What if I buy the access code directly from the publisher?
Black Hawk College has negotiated the best price for Direct Digital Access, so there should be no reason to purchase from the publisher. Sometimes there is a link on Canvas to the publisher's website. If you buy from the publisher's website you still need to opt out of Direct Digital Access by the date mentioned on the Important Dates page. The Black Hawk provided digital access material is separate from any purchased from the publisher.
What if I have further questions?
If you have further questions, please contact us at Bookstoregroup@bhc.edu